Just More Farm
Welcome To JMF's Online Paddock!

Welcome to Just More Farm Online. We are located in Winterport, Maine, just 30 minutes southwest of Bangor. We are a small family farm with a special interest in stock breed, mainly Quarter Horses. We currently have two AQHA mares, one APHA mare, and a grade Appaloosa mare. Currently, only our appy, Mia, is for sale. Photos and more information about her can be found on our "Horses for Sale" page.
Throughout our site you will find photos and tidbits of news from around the farm as well as our endeavors at the local shows. We will be adding more photos as we convert some of our printed picture to digital and are able to upload them. Please check back often.
---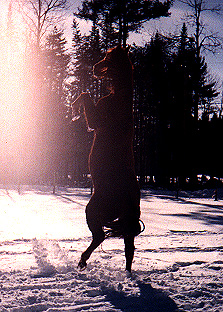 Dakota (aka Summer Fever, ASB) Playing in the winter air. (A kind, gentle, loveable horse who is sadly missed. 1978-2003)